The Guitarist:
With 52 years of experience on the acoustic guitar, Rolly has been a National Fingerpicking Champion and a Philadelphia Music Award nominee. He has performed at the Philadelphia Folk Festival, the Tasmanian Folk Festival, and tons of places in between. He hosted the Guitar Wizards radio show which ran on public radio in Pennsylvania, Maryland, and Maine for several years, introducing listeners to guitarists and techniques usually searched out only by total guitar maniacs. He has served as a sideman for Magpie, Winnie Winston, Saul Broudy, Jack McGann, Priscilla Herdman, Jay Ansill, and many others, and has performed extensively with National Flatpicking Champion Mark Cosgrove, and, until her tragic death, with the late fiddler and singer extraordinaire Freyda Epstein. For the past two decades, Rolly has been a popular teacher and performer at a number of guitar camps, appearing at Steve Kaufman's Acoustic Kamps (Maryville TN), the Swannanoa Gathering (Asheville NC), Summer Acoustic Music Week in New Hampshire, the convention of the Chet Atkins Appreciation Society in Nashville TN, and others. His Youtube videos (instructional and performance) have garnered well over 100,000 hits. For more info, link to the Rolly Brown Guitar Page. In the past three years, Stefan Grossman's Guitar Workshop has released 13 of Rolly's Instructional DVDs, characterized by his clear, easy to understand teaching style.

The Tai Chi instructor:
Rolly has studied Chinese Martial and Healing Arts for 38 years. He began studying Tai Chi in 1975, and has worked with a succession of respected masters including Erle Montaigue, Maggie Newman, Ben Lo, and Tao Ping Siang. From 1984 to the present, however, he has studied primarily with Master William C.C. Chen. Rolly has been teaching Tai Chi since 1985. For more Tai Chi info, link to the Rolly Brown Tai Chi Page.

The Acupuncturist:
Rolly began his formal study of traditional Chinese acupuncture in 1984, graduated with honors from Tri-State Institute of Traditional Chinese Acupuncture in 1989, subsequently obtained a Masters Degree in Acupuncture, and has been in private practice ever since. He has been on the faculty of Tri-State College Of Acupuncture, NYC, NY (17 years) and The Eastern School Of Acupuncture, Montclair NJ, (6 years) and remains on the faculty of The International School Of Shiatsu, Doylestown PA. Since 2006, he has been on faculty of the Won Institute acupuncture program in Glenside PA. For more info on acupuncture, link to the Rolly Brown Acupuncture Page.
Here are some YouTube vids of Django catching a frisbee and playing keep-away with his little pal Barney while Janice mediates and Keli looks on.
---
---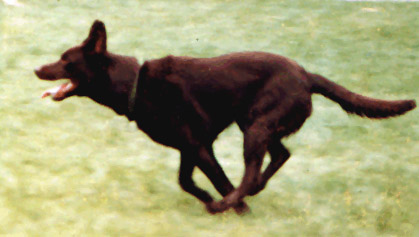 Below is little Keli, from the "showdog" end of the Kelpie breed, and her step brother Django.
Keli is a not-too-distant niece of the late great Max The Dog, pictured "in flight" above, and Django is from the "working dog" branch of the breed.

The Whimsical Keli and The Thoughtful Keli:
Django, the Working Kelpie
from Meson Working Kelpie Stud in NSW Australia. Pictured on the day of his arrival in the USA at 13 weeks (all ears left) and, in herding mode as a full grown dog.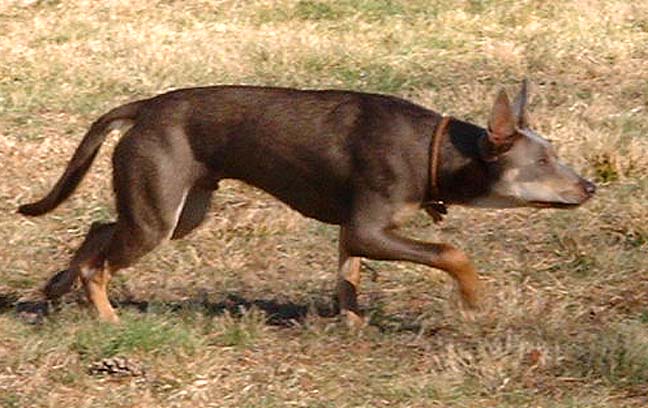 Pictured below are our original Australian Kelpies (l-r) Bony, Savannah, and the great Max The Dog, along with their Belgian Tervuren pal Waffles. These wonderful Kelpie pals have all passed on, but their spirit lives on in Keli and Django, pictured above. Australia's best kept secret, the Kelpie is a terrific sheep herding dog with a frightening amount of intelligence and even more energy. They require lots of exercise, but, man are they worth it!
---
---
Questions regarding Tai Chi or Acupuncture Treatment?Questions or Comments on this website? Write to Rolly via Email, or call his office @ 215-441-4035!!
---