Advance sale has ended. Tickets for workshop a/or concert are available at the door!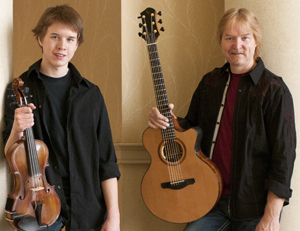 Bucks County Guitar Summit features Mark Cosgrove, Rolly Brown, and Tim & Myles Thompson.

Virtuoso acoustic guitarists Mark Cosgrove and Rolly Brown will be featured in their nineteenth annual "Bucks County Acoustic Guitar Summit" autumn music event, including an 8 p.m. concert on Saturday, Nov. 24, at Buckingham Friends School in Lahaska PA. Both Bucks County performers have won the prestigious National Guitar Championships held annually in Winfield KS; Cosgrove in Flatpicking and Brown in the Fingerstyle division. This year's event will also feature special guests Tim & Myles Thompson. Tim was the 2008 International Fingerstyle Guitar Champion. All the musicians will also be featured in a Saturday afternoon workshop from 1 till 4 p.m.

Mark Cosgrove continues to be a busy performer, teacher, and session player. The past year has brought solo appearances as well as dates as a regular member of The David Bromberg Quartet and Big Band, his own band Good Medicine, performances with the DePue Bros Band, Roberto Dalla Vecchia, and fiddle and dance team John Kirk and Trish Miller. His recent recordings include a CD with three time national guitar champion Steve Kaufman and his fourth solo CD entitled "Unencumbered" which features some of acoustic music's most notable players as well as some rising young stars. Mark is known for his hard-driving and versatile guitar styles, showing equal abilities in bluegrass, jazz, rock, and as a tasteful sideman. He continues to teach and perform at guitar camps and workshops around the country and is very much looking forward to this year's concert and workshop with his good friend and longtime Guitar Summit concert collaborator Rolly Brown.

Rolly Brown, formerly a sideman to various folk luminaries and host of WXPN's "Guitar Wizards", began his musical life as a folk guitarist, and, in his 48 years of playing, has moved through phases of blues, swing, bluegrass, ragtime, and rock on his way to the jazz/blues that is now, along with original compositions, a hallmark of his solo performance. He is a prominent teacher and performer at guitar camps around the country and in Canada, and his instructional and performance videos on Youtube have garnered over 100,000 hits.

This year's guest artists are the father-son duo of Tim & Myles Thompson. Tim was the 2008 International Fingerstyle Guitar Champion, and his son Myles is a 17 year old violin and fiddle virtuoso. While based in Nashville, TN, they have performed jazz, traditional folk, singer-songwriter, country, rock and world music across the U.S., Canada, and Europe. Along with the duo's "Road Runner" CD and their recent live DVD concert, Tim has also released seven solo albums, shared billing with the likes of guitar icons Tommy Emmanuel and Phil Keaggy, had his music used in film, TV, and software applications, and appeared on NPR stations around the country.


Buckingham Friends School is located on Rt. 202 where it separates from Rt. 263, just west of Peddler's Village in Lahaska PA, about halfway between Doylestown and New Hope. Concert tickets are $25. Fee for the 3 hour Saturday workshop is $60. A ticket for both concert and workshop is $75.
Advance sale has ended. Tickets for workshop a/or concert are available at the door!